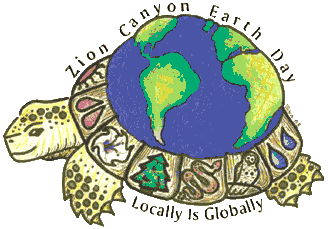 Zion Canyon 14th Annual Earth Day Celebration
​

Saturday, April 21, 2018
Zion Canyon
13th Annual Earth Day Celebration
Climate-Friendly Festivities
Locally Is Globally


The Town of Springdale in cooperation with Zion National Park will celebrate the 14th Annual Zion Canyon Earth Day in Springdale on Saturday April 21, 2018.

Event Details

The festival is a sustainability-focused, educational event. Live solar powered music will be accompanied by art and food vendors as well as educational demonstrations about alternative energy, native plants, local environmental issues and sustainable products. There is fun for the whole family and plenty of activities for the kids.

New Location and Time!

This free event will take place at the Springdale Ballfield this year near the Town Hall at 118 Lion Blvd from 1 pm to 8 pm.

Vendor Information and Application
Please review and complete the 2018 Earth Day Vendor Information and Application (PDF). Applications must be returned no later than April 13, 2018.
​
​
​
​
​
​
​
​
​
​
​